iFix - Self drilling screws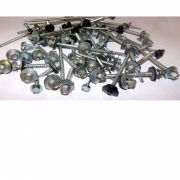 Range of iFix Self Drilling Screws for:
Light steel (1.2mm to 5mm)
Heavy steel (6mm to12mm)
Timber
---
All self drilling screws bagged in 100 with a description and barcode label with full batch traceability on each bag.
Every fixing has a head marking to aid indentification after installation.
All bonded washers have a 3mm EPDM rubber for better sealing.
Technical drawings, Quality inspection reports per batch & Salt spray test reports by batch are all available to customers if needed.
Fixings for light steel up to 5mm thick are manufactured and tested to the harmonised european specification EN 10666 (Drilling screws with tapping thread mechanical and functional properties).
Light Steel lengths from 16mm to 175mm
Heavy Steel lengths from 25mm to 185mm
Timber lengths from 25mm to 200mm