Polyurethane sealants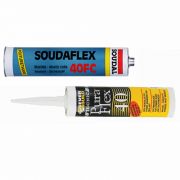 Soudaflex 40FC Soudal polyurethane sealant
Soudal Soudaflex 40FC is a high quality, one component polyurethane sealant with high modulus for a wide range of sealing and bonding applications.
Sealant characteristics:
Stays elastic after curing
Very good adhesion on many materials
Excellent resistance to many chemicals
Sealant application:
All sealing and bonding applications in the building industry
Structural bondings in vibrating constructions
Especially developed for concrete applications
---
Soudaseal 240FC Soudal polyurethane sealant
Soudal Soudaseal 240FC is a high quality, neutral, elastic, one component construction joint and adhesive sealant based on MS-Polymer. Good resistance to water, aliphatic solvents, mineral oils, grease, diluted inorganic acids and alkalis. Poor resistance to aromatic solvents, concentrated acids and chlorinated hydrocarbons.
Sealant characteristics:
Excellent adhesion on nearly all surfaces, even if slightly moist
High elasticity - movement accomodation up to ±20%
Impervious to mould, contains Carbendazym (biocide with fungicidal action)
Can be painted with water based systems
Sealant application:
Bonding applications in construction and metal constructions
Strong elastic bonding in vibrating constructions
Sanitary applications
Sealing of floor joints
Connection joints in sheet metal fabrication
Bonding of security and safety glass
Supple bonding in car bodies, caravans and containers
---
Puraflex 40 Everbuild polyurethane sealant
Everbuild Puraflex 40 one component polyurethane sealant is a premium quality high modulus sealant and adhesive that provides exceptional resistance to mechanical wear. Typically used in the engineering, caravan and marine industries and for sealing floor joints in ceramic installations that are subject to high traffic. Has excellent chemical resistance. Conforms to SNJF, ISO11600 standards.
Sealant characteristics:
Best for resistance to most chemicals
Overpaintable when cured
25 years life expectancy
Quick curing / drying